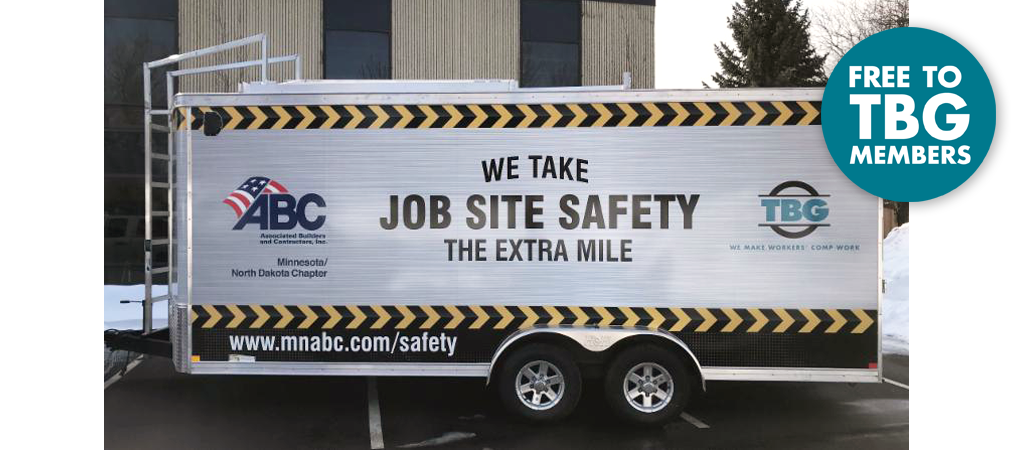 For years our members have been pouring in by the busload to get hands-on safety training in our state-of-the-art safety training center and safety classroom. However, as business ramps up and construction companies expand to jobs out of state, it became harder for many of our members to make the trip to TBG. That's why we've partnered with ABC of MN/ND (Associated Builders and Contractors) to take job site safety the extra mile with the all-new TBG safety Trailer.
As a mobile training command center, the TBG Safety Trailer has the ability to conduct indoor and outdoor hands-on training sessions. From fall protection training to confined space training, tool safety and beyond — your employees now have access to the most advanced and up-to-date safety services, no matter where they work.
Safety is always our number one concern. In fact, this past year our members have seen 197 fewer accidents than the previous year. While that's a good start, we're always continuing to improve our safety offerings — striving to reduce workplace accidents and injuries even further. The TBG Safety Trailer furthers our commitment to helping our members work safer, smarter and more profitably.
Equipment On The All-New TBG Safety Services Trailer Includes:
Air Compressor
Circular Saw
Confined Space Tri-Pod
Corded Drill
Electrical Box and Wiring
Extension Ladder
Fall Protection Harnesses
Fire Extinguishers
TV For Educational Videos
Classroom w/ Tables and Chairs
Gas Powered Generator
Hand Tools
Locator
LOTO Items
PPE
Rigging Supplies
Sand Blaster
Sawsall
Scaffolding & Accessories
Shovel
Stepladder
Table Saw
---
For more information on safety services training or to schedule a time to have the safety trailer brought to your job site please contact:
Adam Tripp
651.303.6326
atripp@tbgmn.com