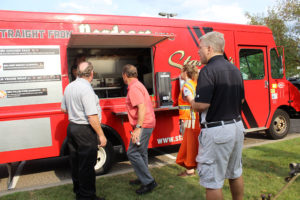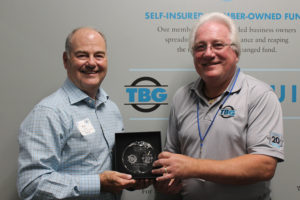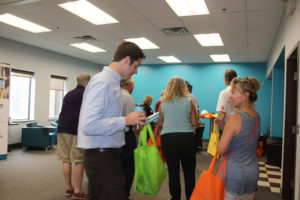 In 1997 we set out on a mission to make workers' comp more affordable for the hard-working men and women in the construction trades. As we began this endeavor we sought out construction firms who would become not just clients, but friends and partners. Now, 20 years later, it is because of those relationships that The Builders Group has become the number one self-insured workers' comp fund serving the construction trades. That's why this past summer we paid tribute to all the individuals who made TBG what it is today by throwing a celebration in their honor.
TBG's celebration of partnerships took place at our facility in Eagan on August 2nd with over 200 people participating in the event. We knew it was going to be hard to throw a party that even came close to exemplifying what our partners in the trades and the insurance industry have meant to us over the years, but judging from the smiles on everyone's faces, we hit the nail on the head. Everyone from our staff to our construction partners, independent agents, friends and family enjoyed an evening filled with live music, food trucks, interactive tours, great fun and great conversation.
In case you were one of the few people who were not able to attend, here's what you missed.
It started with all in attendance receiving a TBG Passport to help guide them on an interactive journey through our facility. The first stop was the board room, which is free to all TBG members and provides the perfect location for all your important meetings. Here guests were treated to hand-rolled premium cigars, amazing raffle prizes and a TBG hat. Once their passport was stamped, it was on to the classroom.
Our safety services classroom is also free to members and is the ideal location to conduct customized safety training classes to help your employees work safer and smarter. During the event this room featured craft beer tasting, a wine and beer bar and guests received an insulated tumbler!
The next stop on the tour was our safety services training center. This is yet another free service for our members, offering workers hands on safety training demonstrations and simulations to create safer workplaces and drive down claims. Here guests were delighted to find a cool TBG t-shirt and Lana's wheel of fun!
The fourth and final stop was our team room. Free to members, it provides a unique, relaxing atmosphere to conduct brainstorming sessions and facilitate team-building exercises. On the night of the event this is the room that was really rockin'. It featured a photo booth, Nothing Bundt cakes and desserts and a Minnesota Wild ticket giveaway. Then, once all four sections of the passport had been stamped, guests turned in their passports and were registered to win one of our incredible raffle prizes.
As you can see, throughout the night there were surprises around every corner and all in attendance had a blast. On behalf of everyone at TBG, thank you for making our celebration of 20 years of partnerships a great success. Everyone from our partner construction firms, independent agents and the staff of TBG have become the heart and soul of our self-insured fund. We wouldn't have had anything to celebrate without you!