MISSION STATEMENT
"TBG is committed to promote and develop strategic workers compensation products/solutions that benefit the construction industry of Minnesota and reinforce our reputation as the provider of choice."
CORE VALUES
• Honesty and Integrity Ethically conducting our business and taking responsibility for our actions and policies.
• Our People Hiring and promoting dedicated employees to compliment our growth goals by creating a friendly, positive, and fun environment that fosters their success while enhancing our image with our business partners.
• Innovation and Excellence Create innovative programs and services to profitably attract new business while retaining desired clients by listening and understanding their challenges and developing solutions to meet their needs.
• Stewardship Maintain the integrity of the Fund by developing and updating sound underwriting and investment policies to ensure a legacy for future generations.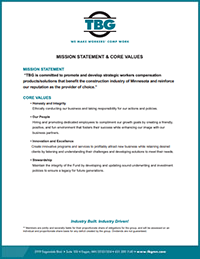 MISSION STATEMENT & CORE VALUES