Resources to Make Worker's Comp Work for You:
Enrollment Forms
We're glad to have you on our team. As an agent for TBG you understand the construction industry and the nuances of a Self Insured Group like nobody else. Here is everything you need to get started on your client's membership with TBG including: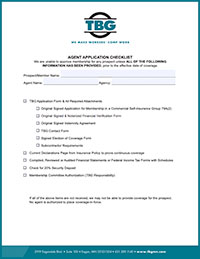 From Agent Checklist to Subcontractor Requirements – all the forms you need
Download PDF »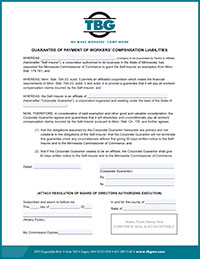 Guarantee of payment of workers' compensation liabilities
Download PDF »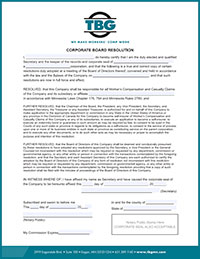 Seal the deal with TBG
Download PDF »
Policies
Take a moment to learn about The Builder Group's policies. From our Plan of Action & Bylaws to our Waiver of Subrogation, here is everything you need to get sharp on the fine print of your TBG membership.
Procedures
Navigating your TBG Wokers' Comp plan should be intuitive and easy, but if you have any questions please don't hesitate to get in touch with your underwriter. Here are procedures and expectations for established or new businesses joining The Builders Group.
Credits
Your business may qualify for a number of credits or compensations on your workers' comp premiums. Find out if you can take advantage of these discounts, or familiarize yourself with the requirements for establishing qualified programs for potential discounts.
Drug Testing Credit
The premium may be reduced up to 3% for an Employer who has certified that they have established a qualified drug testing program. A qualified drug testing program would consist of an outside administrator who would establish a written policy/program and would provide an ongoing process which must include pre-employment and post accident testing.
Certification is required each year in which a premium credit is applied. The member's agreement may be subject to additional premium if it is determined that the member misrepresented its compliance with a drug testing program.
CPAP Credit Policy
The Minnesota Contractors Premium Adjustment Program (MCPAP) provides a potential premium credit based on the employee's average hourly wages. This is an optional program that eligible contractors can elect to participate in.
Once a contractor joins a self-insured group, the MWCIA no longer calculates their MCPAP credit. However, TBG recognizes the MCPAP credit and applies it to their work comp agreement in the form of a CPAP credit. This credit does not get calculated annually but continues with the contractor for the duration of their membership with the fund.
Union Construction Workers' Compensation Program (UCWCP) Policy
UCWCP is an alternative dispute resolution program for qualified union contractors. The program is available to union employers whose union is a sponsor of the program. The Builders Group offers a 5% credit to members in good standing of the UCWCP program.
Details of the UCWCP program can be found here.
Download Forms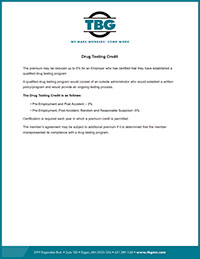 TBG Drug Testing Credit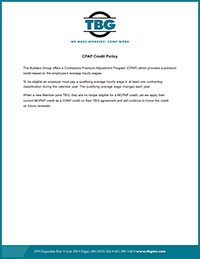 TBG CPAP Credit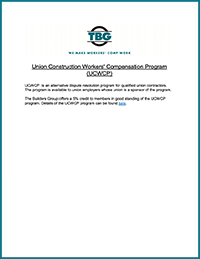 TBG UCWCP Credit
Introductory copy for TBG program highlights
In 1997, a group of 52 construction companies got together and decided to do something about the out-of-control costs of worker's comp insurance. The plan was simple: join together to create a self-insured workers' comp fund based on the principle that if responsible people acted responsibly, everyone wins.
Today, that idea has grown to become the #1 self-insured worker's comp fund in Minnesota, exclusive to the construction trades.
Through TBG, the construction industry has access to affordable, high-quality workers' comp that is tailored specifically to their needs. They have a partner who fully understands their risks and is committed to helping them lower costs, create safer workplaces and take better care of their workers.
You don't need to settle for work comp insurance being just another profit draining cost. When you become a member of TBG, you're making an investment in your business. You will have the tools and understanding at your disposal to reduce risk, manage claims and get workers back on the job faster.
Take a moment to learn more about TBG features:
TBG is the trusted work comp provider for member contractors, builders, remodelers, subcontractors and suppliers seeking the most practical and cost-effective solutions for workers' compensation. We're not only the #1 self-insured construction workers' comp fund in Minnesota—we're owned by our members and dedicated solely to our members' needs.
As a self-insured fund, our members are given the ability to control their claims costs, learn and apply safer on-site practices and take advantage of our flexible payment options. Plus, when you become a TBG member you also become an owner. You're not simply signing up for work comp coverage — you're making an investment in your business. You become a stakeholder with the like minded business owners partnering together to spread the risk of insurance and reap the rewards of a well managed fund.
Since the inception of TBG in 1997, the financial health and well-being of our fund has never been better than it is right now. We have grown from $450,000 in premiums in 1997 to over $40,000,000 today. Since the day our fund began we have never assessed our members and we are actively paying dividends, providing something you rarely see from traditional workers' comp providers — a financial return on investment.
TBG partners with members to mitigate risk through customized safety training services and educational resources. We've developed a full range of safety service programs and assets designed to create safer workplaces and drive down claims:
– Jobsite training and consultation
– Safety program development and implementation
– State-of-the-art, hands-on safety training center
– Extensive on-demand safety video library
– Safety Services Education Classroom
What makes TBG stand out from other work comp providers is that we take our safety services beyond the traditional classroom setting, into our state-of-the-art safety training center and onto the jobsite. Here our safety service experts and construction specialists provide hands-on training on a variety of situations in real time, teaching your employees to work safer, smarter and more profitably.
TBG's proactive approach to claims management delivers personal, compassionate attention — helping the injured worker get the right care at the right time, returning to work as soon as possible without sacrificing quality of care. This approach results in greater control over your workers' compensation insurance expenses. It also lets your workers know that they are important, that their health and safety is your top priority, resulting in a happy and productive workforce.
At TBG we offer a "Pay-As-You-Go" option for paying for workers' compensation that's based on reporting of your actual payroll from the previous month. This practical approach to calculating monthly premiums allows members to pay more when cash flow is high and less in slower times. This benefit was designed by the construction industry, for the construction industry. Pay-As-You-Go premiums help free up cash flow, allowing members to make payroll, cover fixed expenses, purchase materials, pay subcontractors, vendors and respond to unforeseen issues quickly. This is making workers' comp work for you.
At TBG, we understand workplace injuries can occur any time of the day, any day of the year. When accidents do happen on the job, the severity of injuries and the best course of action is not always immediately clear. That's why TBG offers our complementary TBG Nurse Care Line to our members, providing 24/7/365 access to professional medical advice and reporting. This service accurately assesses workplace injuries and ensures the right level of care is provided, which improves outcomes while reducing workers' compensation claims and costs.TBG Nurse Care Line Number: 1 (844) 412-7951
If your Minnesota-based clients are doing work in other states, TBG will come along for the ride. With TBG's Cross Border Coverage, we eliminate the exposure our Minnesota members may face when opportunities beckon across state lines. Now they no longer have to take a dip in the assigned risk pool or venture away from the friendly confines of TBG. With our Cross Border Coverage, your clients are always traveling with the work comp coverage that works for them.TBG was built for the construction industry, by the construction industry. That's why we've hand selected a small group of independent agents who have a great amount of industry experience to represent the fund. This ensures that our members are supported by agents who have a comprehensive understanding of the trades and what it takes to be successful. As a self-insured fund, we all work together to make workers comp work by providing members the coverage and service they need…wherever the job takes them.
Other Agent Resources
TBG goes the extra mile for our agents and members. Our Other Resources page is the best place to keep up to date and informed on the latest developments and resources on how we're making workers' comp work for you.
The Pillars of The Builders Group
TBG Revocable Proxy Letter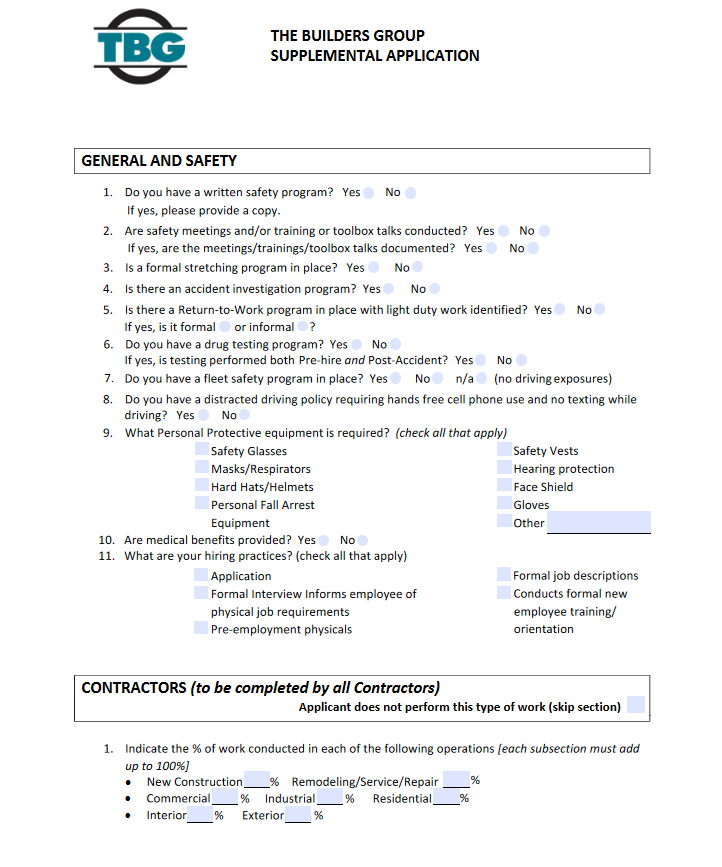 THE BUILDERS GROUP SUPPLEMENTAL APPLICATION