Agent of Record Letter (AOR) Policy
An agent of record letter is an official document that either a prospect or member submits to the carrier. The purpose of the letter is to formerly designate an agent to represent them in their insurance matters
General Policy
• The Agent of Record request must be on the member's or potential member's letterhead or the ACORD 36 form. We will also accept an e-mail from the Owner or Officer of the Company. It must name the producing agent and agency along with the date the AOR is to be effective.
• The letter must be signed by an Owner or Officer of the Company.
• The new agency must be a TBG contracted agency for at least 1 year with written business.
• TBG's objective is to let the member or potential member decide who they want to designate as their agent.
• The 5 day rescission period may be waived, if the member/potential member contacts TBG directly.
Requirements for New and Renewal Business
• Upon TBG's receipt of an AOR, the previous agent will be notified and allowed 5 calendar days for a rescinding AOR. We will accept only one rescinding letter.
• Once the 5 day rescission period has expired, and no rescission letter has been received, the AOR will be effective on the date of receipt.
• TBG accepts mid-term agent of record changes. If a proper AOR (as stated in the General Policy section above) is received with an effective date other than the renewal date, that mid-term date will be honored. However, commissions will not be paid to the new agent until after the policy is renewed. The audit for the expiring term will belong to the previous writing agent.
• The following information must be completed and received by TBG upon our acceptance of a mid-term AOR:
Updated ACORD Application – Due within 30 days.
A complete submission must accompany any new business AOR.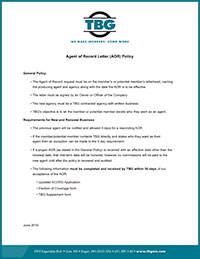 TBG AGENCY AOR POLICY