At TBG we partner with our members to mitigate risk through complimentary customized safety training services and educational resources. We've developed a full range of safety service programs and assets designed to create safer workplaces and drive down claims.
Safety Services Training Center
What makes TBG stand out from other work comp providers is that we take our safety services beyond the traditional classroom setting and into our state-of-the-art safety training center. Here our safety service experts and construction specialists provide hands-on training for a variety of situations in real time — teaching your employees to work safer and smarter.
Hands-on demonstration topics include:
Fall Protection
Electrical Safety
Excavation Safety
Safety Equipment Training
Hand/Power Tools Safety
Ladder Safety
and So Much More.
Click on our training calendar below to view and sign up for upcoming TBG training sessions!
SAFETY SERVICES
Onsite Visits and Reviews
As a member of TBG our Safety Services Team is available to visit your job site and/or workplace to assist you in coordinating and implementing the appropriate complementary safety procedures. This helps ensure your safety programs are current, re-evaluated annually, enforceable, reflective of your company's core values and inline with all regulatory compliance requirements.
TBG Safety Services Trailer
As a mobile training command center, the TBG Safety Trailer has the ability to conduct indoor and outdoor hands-on training sessions. From fall protection training to confined space training, tool safety and beyond — your employees now have access to the most advanced and up-to-date safety services, no matter where they work.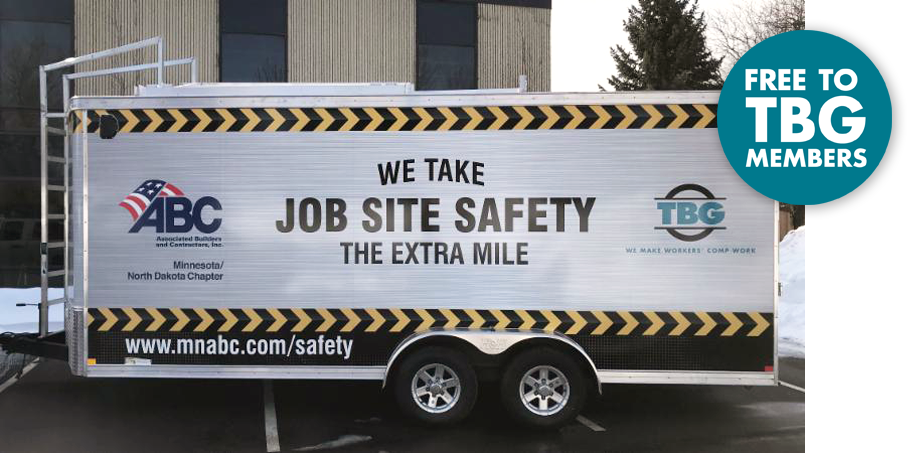 Learn More
Safety Services Classroom
TBG's training classroom is available exclusively to all our members. Here, members conduct and participate in customized safety training and education programs designed to help increase employee safety awareness and hazard recognition. These classroom sessions help ensure that our members' employees are up to date on all current safety policies and regulatory compliance requirements.
Safety Resources & On-Demand Video Library
Partnering with Midlands to provide a robust on-demand video library through Safety Source, is just one of the many ways we make workers' comp work. This safety video streaming resource assists our members in providing relevant safety training to their employees. There are approximately 900 streaming videos and quizzes to choose from, including, but not limited to: Fall Protection, Ladder Safety, Scissor lift safety, and more. Access to all safety videos comes complimentary with your TBG membership and has been developed by safety and health professionals in accordance with OSHA standards and best practices.
Please reach out to your Safety Services rep or call Emily Cutts at 651-203-6794 to learn more.
Program Development
TBG's Safety Services Team works with our members to create customized safety programs for your company based on your operations, unique safety needs and regulatory compliance requirements. Our customized safety programs go beyond written policies and include training, pre-task planning, enforcement procedures and other activities designed to ensure your entire company is involved in the safety process.
We will help you create customized written programs that provide the framework for safety policies within your company's safety culture. Using our library of reference materials, we will assist you in creating the following:
Job Applications
Job Descriptions
Conditional Job Offers
Drug Testing Standards and Procedures
Physicals
AWAIR and Safety Programs
Toolbox Talks
Safety Services E-Blasts
TBG regularly updates our members with Safety Service emails. We're keeping you up to date with the ever-changing world of workplace safety with everything from OSHA updates and training opportunities to tips and articles you and your business can use to keep your employees safe and healthy on the job site. Check out our archive of Safety Services emails here.