1. New Submission Requirements
• Minimum annual premium of $5,000.
• Written Safety and Loss Control/AWAIR program.
• Commitment to develop a written Return-to-Work program including the identification of light duty positions.
• Demonstrates a good attitude toward safety and providing a safe working environment.
• Willingness to work with the Loss Control Department.
• One year in business or past experience if a new operation.
2. Information Required for a Premium Indication
• A fully completed Workers Compensation Application (Acord 130).
• Five year loss runs (valued within the last ninety (90 days).
• Detailed explanation of each claim over $25,000, including any corrective action taken.
• The most recent promulgated Experience Rating Modification Worksheet.
• A detailed description of the prospect's operation.
• Confirmation that the prospect has a written Safety and AWAIR program.
• Confirmation that prospect has formal Return-to-Work program with light duty positions identified, or a willingness to implement a formal Return-to-Work program.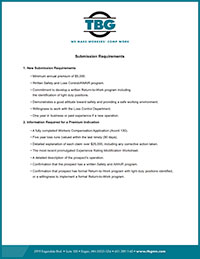 TBG Submission Requirements