Subrogation entitles a carrier to recover the amount due an insured from a third party who caused the loss. When these rights are waived the carrier gives up this opportunity. Because the right of subrogation is important, we want to protect that right, however, we recognize that there are instances where contracts require the member to waive their subrogation rights as a condition of the contract award. It is an agreement to waive our rights to recover damages (injuries to our employees) from the entity listed on the endorsement (Waiver of Our Rights to Recover From Others Endorsement).
Information required for adding a Waiver:
• Duration of a job (length of job start to finish)
• Number of employees • Description of the project (detailed description of work performed)
• Project name and address for whom the waiver is to be made
The pricing for the waiver will be as follows:
• Service Job – No charge – duration one day or less
• Single Project – $100 • Ongoing Contract – $300
NOTE: There will be an annual maximum limit of $1,500.
• Blanket Waiver – $1,500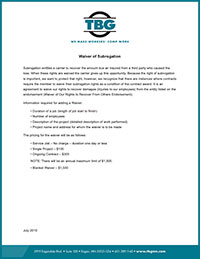 WAIVER OF SUBROGATION