Subrogation entitles a carrier to recover payments due from anyone liable for an injury covered by an agreement. When these rights are waived the carrier gives up this opportunity. Because the right of subrogation is important, we want to protect that right, however, we recognize that there are instances where contracts require the member to waive subrogation rights as a condition of a contract.
Waiver of Subrogation is an agreement to waive our rights to recover our payments from the entity listed on the Waiver of Our Rights to Recover from Others Endorsement.
Information required for adding a Specific Waiver:
• Project name and address
• Duration of the project
• Number of employees
• Description of the project
The pricing for a Waiver of Subrogation endorsement:
• Service Job (duration one day or less) – No charge
• Single Project – $100
• Ongoing Contract – $300
The annual maximum charge is $1,500.
The pricing for a Blanket Waiver is $1,500.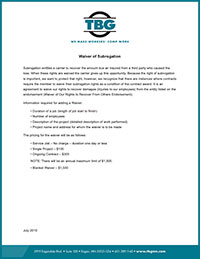 WAIVER OF SUBROGATION